6 tags
Today is one of those days where your voice is in perfect condition and you feel like you can sing anything. Then you end up aggravating your family because you wont stop singing, but you keep singing because you don't care
4 tags
DONE!
Just finished my last final of them semester! I am officially on summer break.
3 tags
Apparently my church has been in the news lately because the neighboring apartments are complaining the music is too loud.. I can understand how it could be agitating but I live next to a high school with frequent band practices, A go-cart track, and a neighbor who sings karaoake into the late hours of the night with the base turned all the way up. So.. Im kinda use to background noise, and...
8 tags
My Birthday!
So today is my birthday and I am currently sitting in my car with a flat tire. I was on my way to pick up my sister and then POP! Thankfully my sister was able to get a ride home and I am waiting on my mom and AAA to come get me and my car home. Once that is done I can keep working in my analysis of Zimbabwe paper. So I will be in my car for awhile but at least I have the new Paramore album to...
5 tags
Well.. Just registered for my fall classes at school. I will be at college all day Monday and Wednesday but those are the only days of the week I have college. Which is awesome because that means I have 4 day weekends!
6 tags
Went to get my braces tightened today and they have me using rubber bands again, but his time is different.. They put hooks on the inside part of my mouth so there are these little bits of metal stabbing my tongue. It feels like I have a sore on my tongue and they have no intention of leaving for at least six weeks…
4 tags
So my parents bought this thing that makes a noise when your dogs bark to keep them quiet, and ever since they bought it one our dogs has been acting strange.. He keeps hiding under beds and randomly starts to shake, which is weird because he never acts this way. We eve turned off he machine and he is still acting weird. 
Its been a while..
 So i haven't posted anything in like 4 months and there's a reason.. I started my first semester at a new college and I took a month hiatus from social media. After a month of not looking or posting anything, I never regained the drive to post stuff. But a lot has been happening so my 4 month vacation is done. (and I'm sure you missed all my posts since I was always posting...
livingapresencefilledlife asked: I think you should lead the song "Give myself to you" by Elevation Worship for our next amplify or just in general. So good and your voice would be perfect for it. (:
6 tags
Feeling like a thug/ Made my day.
Okay so I have been driving around in my moms chrysler today. I'm feeling real gangster right now And.. Today at church this guy made my day. I wasn't on schedule to sing the past two weeks and today a guy came up to me and was like "you haven't been on stage for a while you need to get back up there soon." I was like THANKS!! And told him I would be next week....
5 tags
3 tags
Everything worked out!
So.. I told my parents about the whole services on Monday thing and my mom was like, "well we can leave the next day then." Now a few days earlier she was telling me if there were services on Monday I wouldn't be able to sing. God's favor has really been working in my life lately Oh! My dad sold one of his houses and he is putting 10,000 of the profits aside for my college...
I've got a problem..
I was really excited about getting put on schedule for Christmas services until I found out my family is leaving Monday morning to go see the fam for Christmas. Our church has 5 Christmas services 3 on Sunday and 2 on Monday. I can still do all the Sunday services, but idk how I would be able to Monday. If I really work it I might be able to convince may fam to let me drive down to see the fam...
This week so far..
So, I was a little bummed earlier this week because i found out I was going to be out of town when I was scheduled to lead a new song at church. I went ahead notified the worship leader, and today I found out that I am scheduled for Christmas services! This is somewhat awesome because I really wanted to be scheduled for Christmas services. Then today I accidentally turned off my alarm instead of...
18 tags
SO... there was a gay guy checking me out today...
Okay, I went to unf today to talk to an adviser in order to figure out which classes i needed to take for my Spring term. After that I was waiting for my friend who was going to show me the campus and stuff. However, while I was waiting I noticed this guy walking by who had a very… um.. disturbing look in his eyes. First thing I noticed was this dude's eyes were HUGE. Then next thing I...
1 tag
Class today
Student: so what if I say I have a 66 in this class?
Professor: well I'd say your screwed.
4 tags
Testing...
Okay, so the other day I had to take a test in my economics class and, after guessing on half the questions on the test, didn't feel to great. So.. I went online to check my test score and to my dumbfounded surprise I made a 96!!!!!!! If that isn't the work of God then I don't know what is! I literally prayed through that whole test.
3 tags
That moment when your voice is tired and you are like "NO! I still have 10 other songs I want to sing…
4 tags
Not trying to make anyone jealous or anything.. but I have VIP rock concerts in my car EVERYday.
Election
Lets just say I'm not a fan of the "Change" over the past few years and I definitely don't feel like moving "Forward."
15 tags
Awesome day
So today was awesome. We did the cover of Home by Phil Phillips and we rocked it. I messed in the first service but I was able to make it seem like a adlib. I had a lot of people tell me I did a good job and there were even a few youth girls who started squealing… Which was awkward.. Very awkward… But! Overall a great day and it is all because of the gift God gave me and I'm...
6 tags
Ready for tomorrow! It is going to be an awesome day.
7 tags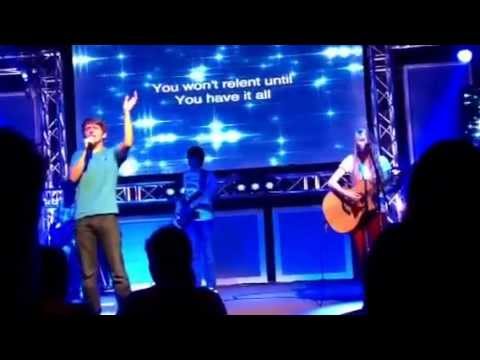 2 tags
Thinking about suggesting this song for the next...
8 tags
My in ears are so awesome, but sometimes they are a little too awesome.. For example whenever I use them to listen to music on my computer, I can hear the awesome music as well as every little internal sound my computer makes. Such as.. vibrations, ticks, the sound of spinning disks, and random beeps…
7 tags
So my dog has this skin infection and we have to give him these pills. So every time we give them to him I say "you want some drugs?!?!?!" he gets excited and starts wagging his tail cuz we wrap the pills in cheese. if we don't, he won't eat them.
11 tags
Went to a park and had a guitar lesson with a friend and it wasn't as awkward as I thought it would be. We had a few people stare but it didn't really bother me. Then I saw the new madea movie which was really cheesy and long but funny. Finally I found out I might be leading all the male songs at church tomorrow because the male lead was injured and might not be able to lead. So...
I am so excited for the youth event tomorrow night!
9 tags
SISTER..
My sister had a 4 hour long meltdown yesterday that involved lots of crying screaming and other annoying sounds. She also attacked me and left cuts on my arm from her nails. This was all because she lost all of her photos that were on her phone. HOWEVER! she just got the phone the day before so she only lost ONE, yes only one, day of pictures. It was ridiculous and uncalled for. She lost about 50...
No!!
I am in my 2 hour economics class with the monotone teacher who just reads powerpoint slides and my laptop just died.!.!.! I have nothing to occupy my time with now and I have to actually pay attention. Not sure if I can make it.
10 tags
Past few months
I was thinking how the past few months of my life have been today, and it just amazes me what God has been doing. About three months ago I was praying and asking God that I could get just one lead song. I wanted to start getting more comfortable with leading worship and around that time I was given that opportunity. Since then a lot of other opportunities have presented themselves: Church started...
4 tags
Economics
I have literally spent at least 5 hours studying for my economics test tomorrow. It covers the first 5 chapters of the class and our tests count for 70% of our grade. There is just too much raw information to sort through..
6 tags
So today.. Found out my dogs has a skin infection Went to a new restaurant Saw a bunch of star troopers in Barnes and noble Went to my neighborhood's fall festival. Overall a good day.
7 tags
5 tags
Dinner plans canceled
Okay so my dad is like "hey we are going to red lobster for dinner." Then Mom calls and is like oh it is an adult only outing which means they just want to hang out with their friends without their kids being there. Now, after telling we can/can't go to dinner two different times we get in the truck and head to red lobster. Then, Dad stops the truck at the end of the driveway and...
6 tags
Found out I might be doing a cove of Home by phil Phillips for church! We goin have banjos, a xylophone, and people singing all the oohs and aahs.
15 tags
9 tags
Recap of the past few days. Long but AWESOME!!
Wednesday: Come home and dogs destroyed a $300 pair of earphones. Also made a D on a college test. Not one of my best days. Thursday: Still a little upset about the day before but after talking to a friend about my earphones I realized that I could use my loss to reach out to others and talk about church. The earphones were for stage performance, and I used them for church. Now, when I told my...
7 tags
Even though I don't have my earphones tonight is still going to be awesome!
5 tags
Okay it feels like every time I get on facebook and look at my friend request it is always all these middle and junior high girls. They all go to my church I literally have like half the girls in the youth sending me friend requests and I have never talked to any of them..
6 tags
6 tags
So today my economics class started and it seems like an okay class. However… The professor says um… Like every 5 seconds and says it in a weird way that is very distracting and it almost makes you cringe every time he says it… Oh and it is a 2hr class so um.. It will um.. Be um.. interesting.
8 tags
Long but fulfilling day and to top it all off I saw a car with a fake hand and foot hanging out of its trunk on my way home. It was this old lady who was driving and she kinda seemed suspicious..
3 tags
7 tags
5 tags
So I took a nap when I got home and it was one of those fall asleep for 2 hours kinda naps. It was awesome. However now I feel like I am wide awake. So.. I may be up all night